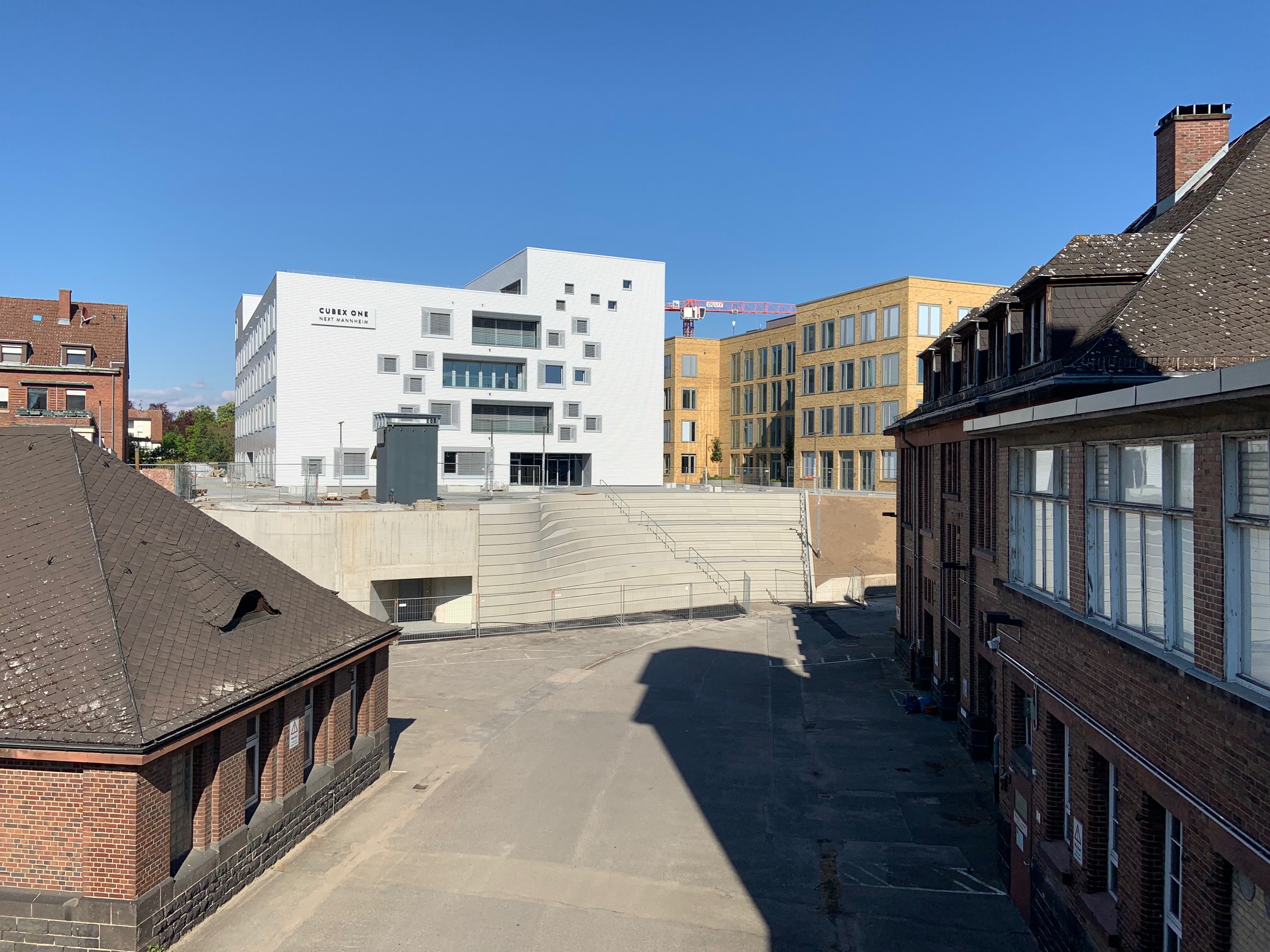 "THE PROXIMITY OF ENTREPRENEURS, CLINICIANS AND RESEARCHERS GUARANTEES CONSTANT EXCANGE AND IMMEDIATE REACTION/FEEDBACK CYCLES. YOUR CUP OF HOT COFFEE WILL NOT EVEN STAND A CHANCE TO COOL DOWN ON THE WAY."
In this novel innovation ecosystem industry, healthcare and research professionals develop future medical devices and applications. In a joint, digital and international approach.
The MMT-Campus provides a unique concentration of industry, hospital- and research facilities, all within walking distance. This ultimate proximity is instrumental to develop medical devices and applications faster and more efficient.
The novel innovation ecosystem MMT-Campus includes:
Business Development Center "CUBEX ONE"
offering approx. 3.800m² flexible and scaleable office, workshop, laboratory and cleanroom spaces. It is especially dedicated to startups, small and medium size enterprises in the medical technology sector which meet the EU EFRE funding criteria, and also to their corporate partners in R&D. It is built and operated by mg:mannheimer gründungszentren gmbh. Ready for occupancy in Summer 2021. Learn more here.
TPMA
In total approx. 15.000m² office, workshop and laboratory space provided across three buildings next to each other. Dedicated to existing and expanding companies in the medical technology sector and also to specialized service providers and suppliers to this industry. Built and operated by TPMA GmbH. The third building opened in August 2019. Construction of the additional second building started in November 2020 and the thirf building will follow in due course. Learn more here.
TPMA I
The first building with four floors and approx. 3,500 m² of office and laboratory space was completed at the end of 2019 and is fully occupied.
TPMA II
The second building has a U-shaped office and laboratory space with an area of ​​approx. 4,600 m². Construction began in autumn 2020, and completion is expected in the first quarter of 2022.
MARECUM I/II building for medical research and medical school
The fast development and the exemplary growth of Heidelberg University's Medical Faculty Mannheim both, in research and teaching require new buildings for a sustained structural development. Current planning is in progress and includes four buildings for medical research and teaching. Built and operated by the federal state government´s real estate management (Landesbetrieb Staatliche Vermögens- und Hochbauverwaltung – VBV). Learn more here.
Old Brewery - Alte Brauerei
New building and conversion accours in the northern section of MMT-Campus, in the so-called old brewery. From 2022 on, living space for students, graduates, visiting researchers and project staff (buildings C, D, E, F and H), and also commercial space for business models dedicated to health and life science (building A). Learn more here.
Child care on the MMT-Campus
Due to the job profiles in the medical technology sector the compatibility of job and family is a key criterion to talents and professionals for making a sustainable choice about their employer. For employers, the compatibility of job and family is key to secure the required flexibility in working hours of their staff in an experimental and technology-driven global competitive environment. Depending on the actual need of employees at the MMT-Campus, an additional floor in the building of the kindergarten/preschool MEDI-KIDS operated by the Medical Faculty Mannheim of Heidelberg University can be activated for preschool children of the company employees working on the MMT-Campus.
Central office for rental requests
Building activity of all investors and in all of the MMT-Campus sites is progressing at considerable speed. Completion dates, usage concepts, occupancy and pre-rental contracts are subject to continuous dynamics and may differ from one MMT-Campus investor to another. Our central office for rental requests provides you an up-to-date overview helping you to choose the most profitable or benefitial solution according to your company's specific needs. Your incoming request will be handled strictly confidential and strictly according to your defaults – fully independent from aims or interests of the landlords/investors involved at the MMT-Campus.
Please send us the MMT-Campus response form in a scanned format by email. We will get back to you immediately.
Ultimate proximity
Reaching out to individuals from startups, industry, healthcare and research in less than five minutes walking distance is not limited to the MMT-Campus.
This also applies when reaching out the following organisations and institutions located on the directly adjacent campus of University Medical Center Mannheim:
Fraunhofer IPA – project group for automation in medicine and biotechnology (PAMB) operating a clinical transfer center for novel medical technologies (M²TC), including:

Experimental Hybrid-OR
Usability-Lab
5G-Testlab
AI-application center for intelligent machines in medicine (ANIMMED)

Institute for Medical Technology of Heidelberg University and Mannheim University of Applied Sciences
Mannheim Institute for Intelligent Systems in Medicine (MIISM) at Medical Faculty Mannheim of Heidelberg University
Heinrich-Lanz-Center for Digital Health
Research Campus of the federal ministry of research for minimally-invasive cancer therapies (M²OLIE)
INSPIRE - Digital Health Develoment- and Testing-Platform, e.g. including a 26-bed patient ward for use as a living lab (reality lab) in routine hospital practice.
Startup- and competence center for medical technology CUBEX41
High-speed connectivity
Double-redundant fibre-glass data connection
Grown urban environment
Existing connection to five public tram lines – thus, reaching out to major shopping street "Mannheimer Planken" in 6mins or reaching out to european ICE-train hub Mannheim main station in 9mins, and in further 31mins to Frankfurt/Main airport.
Highways A5, A6, A61 and national road B9 just a 15 mins car drive away
Head of Project MMT-Campus
The general governance and development of the MMT-Campus has been assigned to the City of Mannheim Office of Economic Affairs. This includes buying and selling property, development of infrastructure, strategy and concept, marketing and communications, and the management of investors and cooperations.
YOUR CONTACTS
Dr. Elmar Bourdon
Head of Project MMT-Campus and rental requests
Tel: +49 621 293 2155
E-Mail: elmar.bourdon@mannheim.de
Stefan Grether
Deputy Head of Project
Tel: +49 621 293 3361
E-Mail: stefan.grether@mannheim.de

Flyer MMT-Campus

MMT-Campus response form